Holy moly! It's been like two weeeeeeeks since I last posted!
It's been crazzzzzzy! So much has gone on, we've had our engagement party, Easter, photo shoots, created a hilariously awesome BAEWATCH video….where do I begin!
Let's start with the engagement party! And on the next post I'll go over some of my favorite Easter recipes made healthy.  Along with some of our photo shoots just to keep the posts shorter. 🙂 
I have the absolute best family and friends in the whole wide world. They helped make the day jus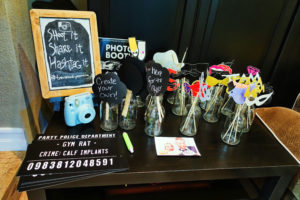 t fabulous. We set up as much as we could the night before. 
I Created this cute little photo booth area. For all the guests to pick a prop then snap a pic!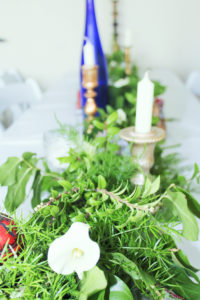 We had the b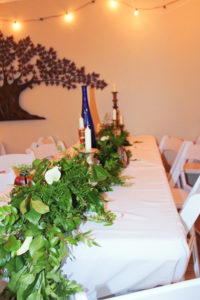 est florist (Bottles and Blooms !!)who created our beautiful garlands and then my cousins amazing candle sticks…doesn't it just make everything POP?! 
I am a sucker for simplistic and elegant centerpieces. I love that they have my favorite flower ever (calla lillies) and then just the right amount of succulents placed along the garlands! I decorated the gar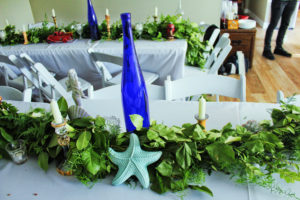 lands with some deep blue bottles we
had lying around. Added some random mermaid decorations and fire related items so that it incorporated both of us into the decor.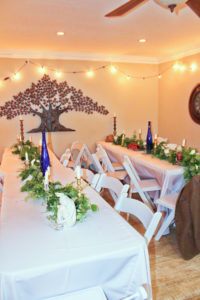 We are so blessed with family and friends who surround us.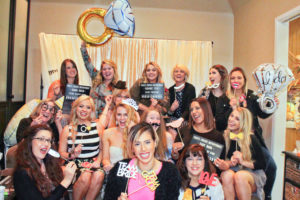 It was so nice to see everyone who came to celebrate our engagement. We have had quite an incredible ride during our relationship. I cannot wait to see what our future holds.
My dad had prepared alllll the food, with his special super secret recipes for the chicken and Tri-tip. Insanely good.
My mom made her famous salad that is literally to die for, if you don't like salad this is the one salad you WILL want to eat. I'll post the recipes for it my next blog post!
Our favorite local brewery helped us out with a BOMB keg and growlers FILLED with all our favorite beers. Literally a 5 gallon keg, 4 growlers, 3 mini growlers all filled with our favorite beers. It could not have been better! We even bought a ton of other beers from the store, but the ones that got drank the most, all of Last Name Brewery! 
The night went by way too fast, I wish we could do it again. So many great conversations and hanging out with all our people. Seeing everyone get to meet each other for the first or see each other again…MAGICAL! I could not have asked for a better group of people to have been there. It was the best day ever! I can only imagine what the wedding day will be like. Filled with everyone we love on the best day of our lives!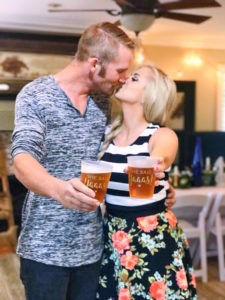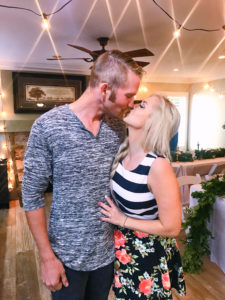 Shout out to a few of my people who came to help set up and get things all set up. Alex, Brandon, Bryanna and Jake for coming early and setting things up, getting a TON of ice that was desperately needed. ( I totally underestimated the amount of ice that would be used) To my parents who worked so hard to make this amazing day even possible. To Trevor who put the things I couldn't lift and the things I can't reach right where they needed to be.
Thank you to EVERYONE who came! We love you all and you all mean so much to us!!
Another big thank you to the following people:
Eric – Expressionary Events
Katie – Bottles & Blooms 
Matt – Last Name Brewery