I'm an auntie!!!!
Before you fre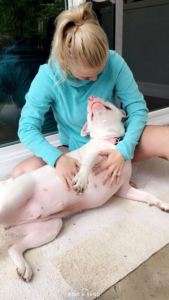 ak out, it's a happy little fur baby! The most beautiful white pit bull eveeeerrrr. My sister and her boyfriend adopted this lovely girl, her name is jersey. She's totally cute!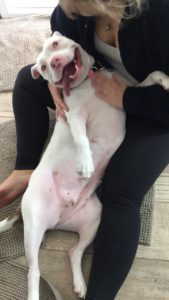 Look at her!! She is such a happy camper right here!
Besides this cutie pie hijacking our heart this past week, we got more of our engagement photos back and OHHHH MAN. SO AMAZING 😱🤓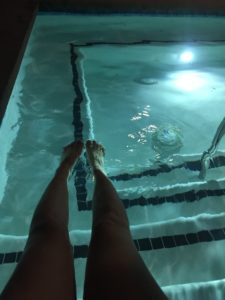 I got to catch up with a bestie, always nice having girl time.
Of course, who doesn't love jacuzziiii time with a bestie?!
Fiancé and I had our first paint nite adventure. It was pretty magical. Paint Nites are hosted everywhere, but we found out our favorite local brewery hosts them every other Tuesday. (I think we found our new date night….lol) it was quite fun.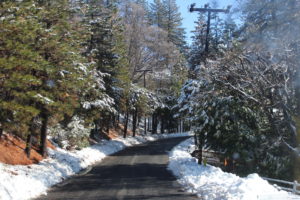 We had dinner with ano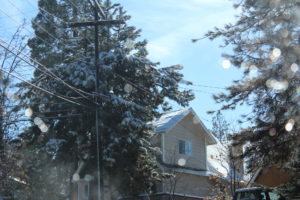 ther couple before paint nite who live in lake arrowhead. Last time we saw them we had such a fun snow adventure! It was literally magical. For a California kid who never sees snow on her doorstep, going to Lake Arrow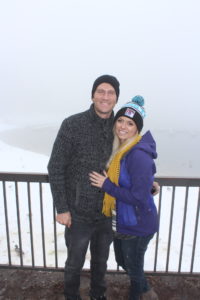 head with snow everywhere and RIGHT ON YOUR DOORSTEP. Pretty freakin magical! It wasn't warm by any means, but the sun was out and had started melting the snow.
It didn't sound like rain, because rain falls hard on surfaces. This was most of a soft sound! Like the melted snow falling into a fluffy cloud.
Magical right?!
Anyway, we got to have dinner with them and it was AWESOME!
We went straight to Last Name Brewery for our Paint Nite. Seriously the best idea e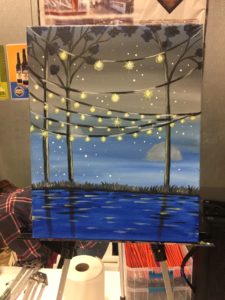 ver, bring a whole bunch of people together, incorporate alcohol and an art teacher! It's second grade all over again for adults! I LOVE IT.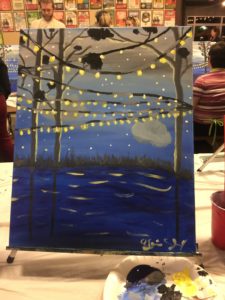 Everyone paints the same painting….but NO ONES ever looks the same. Ever. Everyone has a different perspective of it and its really neat.
Photo above to the right is what the example is.
Here are mine and Trevor's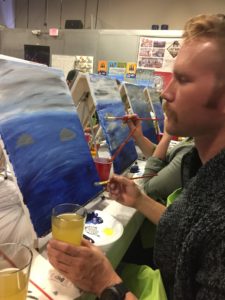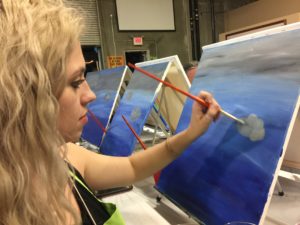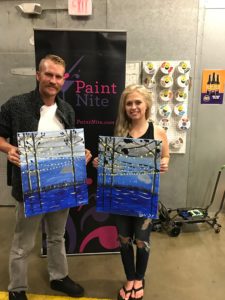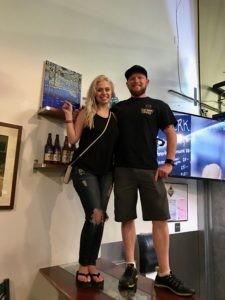 Above is my photo with Matt from Last Name!!! With my painting up on the shelf!
…..can I just say how cool it was to STAND on the bar? Check that off the bucket list!!