I had the loveliest time going venue shopping with my mom, fiancé, and our unbelievably amazing wedding coordinator. (SO EXCITED)
We saw three really great places and are scheduling to see probably 4 or 5 more.
My firefighter is such a trooper. He worked 120 on (5 days) had 24 off (1 day) and worked another 120 on. Only to have the next two days off and the one before he goes back to work is the day we go see all the wedding venues. Then he goes back to work another 5 days! (he is aaaaaaaaamazing)
For those of you who are not familiar with firefighter schedules, it can change at a drop of a hat. You never know when they will actually be working. They do have a set schedule that they work, but just 'cause it says they have a day off, doesn't mean they won't get called back or need to cover for someone. Which is the great part about the fire service. It is one gigantic family, everyone is there for each other and someone is always willing to trade shifts or help other people out when they need it. I'll share more of my fire family fun times later!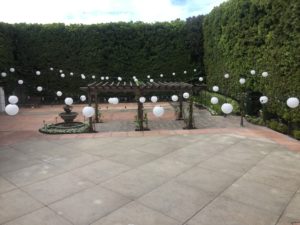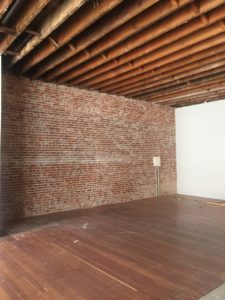 We went to s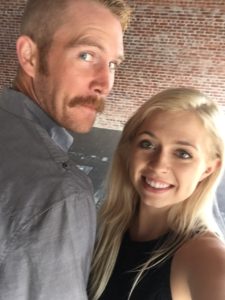 ee the Franciscan Gardens first in San Juan Capistrano, CA. Absolutely gorgeous, you're practically in your own secret garden… almost…they have a private courtyard and you find yourself completely surrounded by beautifully tall greenery that makes you feel as if you're in a whole different world. Once you go inside to the cocktail area or what can even be considered a ceremony/reception area…there is the most beautiful original brick walls and exposed rafters. Seriously, so pretty and you can transform the place into anything you can dream of! It was definitely a contender.
Seriously, do you SEEE that brick?! It is GORGEOUS.
Second place we w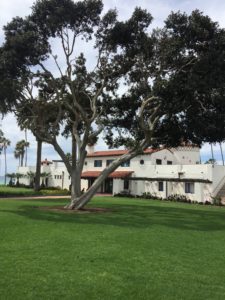 ent to, was Ole Hanson Beach Club in San Clemente. Absolutely stunning as well. Right on the water, you literally cannot get any closer than we did. The cer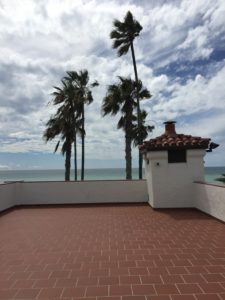 emony can be held right on the grass. Unfortunately unseen in the photo on the left.
Photo on the right is where the reception would be and boy oh boy, that was literally the most spectacular view ever. My mermaid senses were TINGLING!
We had a little time to spare in between all our appointments, so obviously when you are in San Clemente you HAVE to visit the Rainbow outlet! So many awesome shoes….I'm so bad…I bought three pairs of Rainbows…..one was a shiny pair of gold sandals…how can you pass that up!?
Still having some extra time, we did an impromptu photoshoot for a fun designer friend of mine! Link listed ( Custom Fire Tank ) Follow her Etsy, she has the BEST custom stuff. Her instagram account is @hunnyleigh @TheSassyAppy she posts all her latest stuff there! You can also like her Facebook page ( Sassy Appy )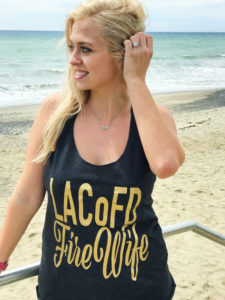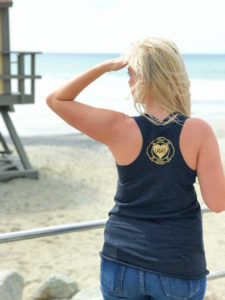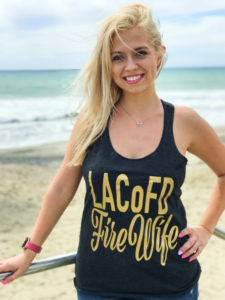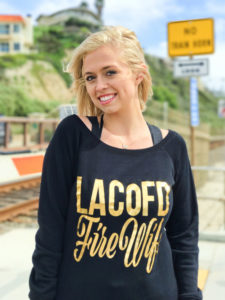 The third and final place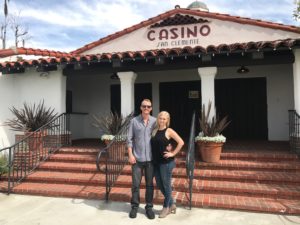 we saw on our wedding venue tour was Casino San Clemente, which had by far the most history. If only the walls could talk in that place…I'd probably never leave. Frank Sinatra has been there, Judy Garland, Betty White, basically everyone who was anyone in the 30's, 40's an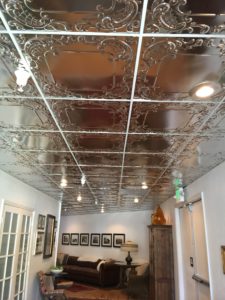 d 50's through and up to today have been there. They have a History Hall listing all the people who have been there, as well as all the previous historical events that occurred there. Literally the coolest spot for history lover like myself!
Look at these ceilings! Aren't they incredible? It is so pretty to just look at! The one on the right is the ballroom where the reception would be held and the photo on the left is History hall with the tin ceil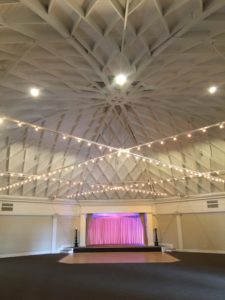 ings.
Needless to say we have our hands full trying to find a place we really want to get married at. Every single one of them speaks to both of us.
We have another set or two we will be seeing and then we will make our decision! Good things are in store! I am so excited for our wedding and incorporating all those things that represent both of us.
So obviously by the end of the day we are all STARVING, we've been juiced up with cups of coffee to keep us engaged all day…but now it is time for us to go eat FOOD. We make our way back to the South Coast Plaza and we decide on Boudin SF…Anyone heard of it? 😀 BEST CLAM CHOWDER BREAD BOWLS EVER!! Originally from San Francisco, and has made their way down to the lovely OC. Unfortunately I forgot to take a photo of our meal…but you can just imagine the freshly homemade sourdough bread bowl filled with the most delicious clam chowder.
Our wedding planner & coordinator:
Sassy Appy:
Listed here are the links to the venues we've seen:

We visited Rainbow Sandals, in case you want to shop ;]
Food! Here is where we ate