HAPPY CINCO DE MAYO!
By this time last year, I was headed out to the Midland / Odessa, Texas!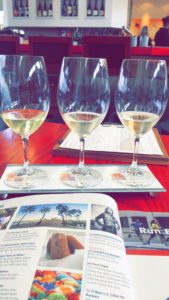 I flew out of John Wayne Airport ON Cinco De Mayo going to my layover in Denver…they have the cutest little wine bar right there across from my gate. Can you guess where I spent my 45 min waiting for my seat to be called? Yeah, perfect way to start the flight. 🙂
I am a super friendly person, I like meeting new people and creating a connection. Seems like basically everyone in your area is going on the same flight….I start introducing myself. You end up meeting people from all walks of life, in different stages of life, different adventures and maybe you end up spreading some joy too!
I met a traveling biker in line, part of a Christian outreach program going to Paris to spread the gospel. A young woman going to Chicago with the cutest workout clothes on, she was super nice. ( I ended up seeing her again on my returning flight! Totally random right?? ) I sat next to the nicest older man on my flight from the Denver to Midland. He told me all about the oil field, it is so complicated!! Not to mention extremely competitive.
He was coming back home after spending a week or so in Denver after checking on his ranch and doing some maintenance. We spent the entire hour and a half flight talking! It was really nice, having a genuine conversation with a stranger and not one bit of it was forced. When they said our flight was landing we couldn't even believe it! It went by so fast because we had such a great talk. About life, love, his children, adventures, everything!
As a Californian, if you've lived here long enough you've experienced an earthquake. Talking to my plane buddy, he had never experienced an earthquake. The best way you can describe it…it's like turbulence on a plane but depending on the size it can be more dramatic or less dramatic than plane turbulence.
For those of you who haven't been to the Denver airport… as soon as you step off of the plane this is what you see. " TORNARDO SHELTER HERE". Needless to say, I was incredibly shocked when I stepped off the plane. One of the first things you see ( other than the fact you are in the middle of n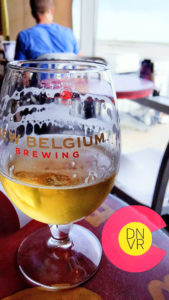 owhere ) big signs for Tornado shelters!
OK STOP. TORNADOS?! Like Dorothy's house getting swirled up into the sky and landing in OZ, those TORNADOS?! Not gonna lie, it was terrifying!! From what I've heard. People who have been through tornado watches and sirens, think that earthquakes would be more terrifying. Honestly they're both crazy. But being able to physically see this crazy swirling monstrosity tearing up the ground FROM THE SKY?! Low key, I'd probably freak out.
So I quickly found  a place to rest before my flight, grabbed a beer and it calmed the crazy tornado shelter nerves. LOL! ( there wasn't even any signs of a possible tornado by the way, it was clear, sunny, no wind, entirely perfect day, I was just being a little dramatic )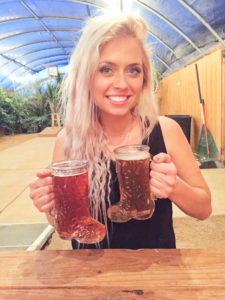 Once I arrived and Karen picked me up we immediately went straight to celebrate Cinco De Mayo in the beer garden! Cutest little place ever. Obviously when they have boots for mugs, you must get two. There was the cutest cafe lighting in here, we got our boot mugs and some great photos.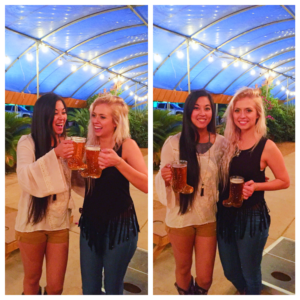 From there we met up with a few of her friends and learned how to do some real Texas two-steppin'! We went to the most random hotel with a bar and tiniest dance floor…Get this, inside the hotel they had a MINI GOLF COURSE!!!!
How incredible is that?!?!? It was like an outdoor feel in an indoor area. This entire hotel opened up in the middle to mini course but by this time it was of course closed. For this reason, we walked all around the mini course just because we could!
Austin
The next morning we set out on our road trip to Austin!!!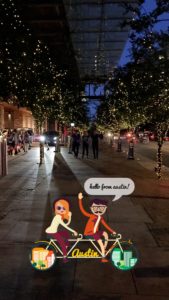 There were so many changes in the earth the scenery went from nothing. Dirt, dirt and more dirt. To farmland, tiny little towns, with wildflower fields, random antique shops and horses! Finally we get to Austin, we are ready to check in to our hotel change, stretch and get some food!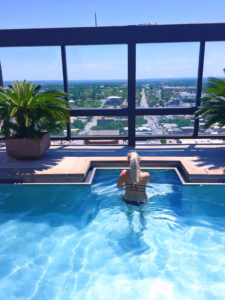 Austin is one of my favorite cities I've visited so far. It is up near the top of the list with New York City. Austin is a plethora of hipsters with all their micro brews, it has the largest food truck community, and amazing little niche places!
Then got all settled in at the hotel then decided to stop and grab dinner at Eureka burger! Which is always yummy and one of the closest places in walking distance we could go to. We walked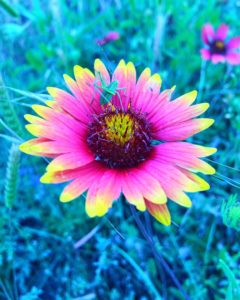 all up and down 6th street, (totally not the same during the day).  
Keep Austin Weird
We decided to head back to the hotel and changed to get ready for the night. Visiting downtown Austin's super famous 6th street is incredible, there is so much to see at night. It gets super packed, the street is totally filled with everyone just having a good time and live ban
ds playing everywhere. First and foremost rooftop bar filled with live music blaring all around is definitely something you need to experience at least once in Austin.
Austin has a huge homeless population as well. Literally on 6th street, if you go a black to far in either direction it will land you in a sketchy area.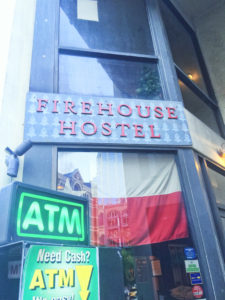 Spending all night meeting a bunch of new friends from all over we decided to head back to our hotel. Right down the street from the hotel theres a hostel called the Firehouse Hostel. A random guy on the street told us about this 'Hidden Bar'. Hesitant, we did not think it was a good idea going in alone. Two girls by ourselves into a hostel 'hidden' bar. I had just watched a tv show about human trafficking, that seemed like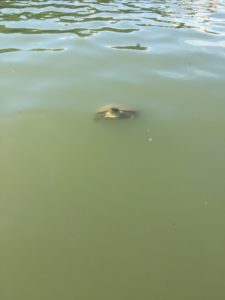 something that would go on there.
There is massive amounts of tourism in cities like Austin. Girls. Alone. Furthermore walking around in big cities looking like they'd be naive or too trusting, I can totally see how they'd lure them in with that. We were not about to put ourselves in that kind of situation!  Neat idea though! We probably would have checked it out if we had our guys with us, would've been more safe! I am wondering if anyone knew about this 'hidden bar' in the Austin Firehouse Hostel? I would LOVE to hear about it if there is!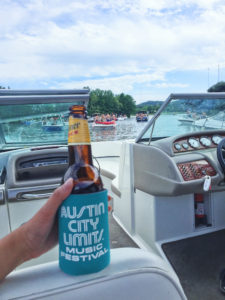 The next morning we met up with some friends right outside of the Austin big city area…w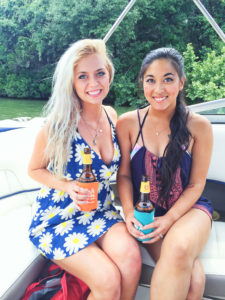 e went to the river and floated on the boat all day! Seriously the coolest experience ever. We found a turtle and named him Fred. Coolest little guy. Kept swimming up to us and interacting in his turtle-y way!!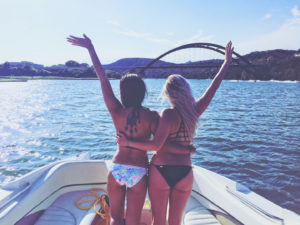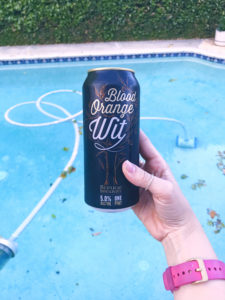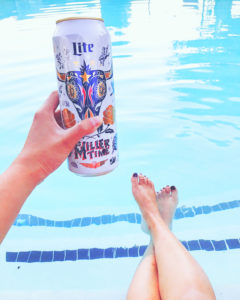 To commemorate our trip we tried to re-do our Cinco De Mayo day! I have a photo from Texas (on the left) and a photo here! I tried to get a matching can but I couldn't find the Miller California can.It also happened to be the only super windy day….we just had the pool cleaned and all pretty before this photo was taken. 
Cheers to many more adventures, whether near or far, together or apart.
"A journey is best measured in friends, rather than miles." – Tim Cahill